by Roberta Melody

Two of my most intricate pieces were my teapot, and orange juicer.

The teapot, as all my pieces, have walls that are extremely thin. The lid fits perfectly, and has a 'steam hole' in it. The teapot's spout is hollow, AND there is a three holed strainer at the base of it, to filter out the tea leaves! The details in the teapot are so perfect, that if it could be 'enlarged' to real life size, it would actually function as a teapot! And the same thing is true with the orange juicers. They are perfectly formed pitchers, with lids that double a orange juicers...with holes around the bottom to allow the juice to drip into the pitcher, while keeping out the pits.

While I made maybe a dozen of 1/2 orange juicers, in addition to the one inch scale, only a few teapots were made in 1/2 inch scale. There is one pictured with the 1/2 scale pieces.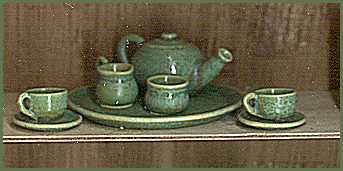 Tea sets, consisting of a tray, teapot, sugar and creamer, along with cups and saucers, were one of my most expensive items, but when each piece is looked at individually, it is easy to see why. Seven pieces, in addition to the teapot, and three of those have tiny handles. Another example of pieces that were truly functional... at least for those who are six inches tall. Only one of these remains for sale...but I don't know if I will actually be able to part with it.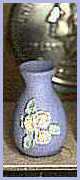 My best selling pieces were my vases thrown from blue colored clay, and decorated with flowers and leaves which were also formed from colored clays. These pieces were not glazed, and sold in bisque form. They came in assorted sizes, and in both pot and vases. I also made them in 1/2 scale, and a very few were made in 1/4 inch scale!


Similar vases were made from a white clay...decorated with colored clay flowers, and clear glazed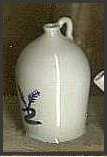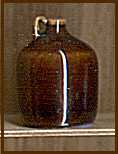 I made many styles of jugs...with their best feature being mostly hidden from sight. The walls of the jugs are as thin as the wall on my vases. They, too, would be totally functional if they could be enlarged to real life sizes. In half inch scale, I made a few 'grotesque' jugs.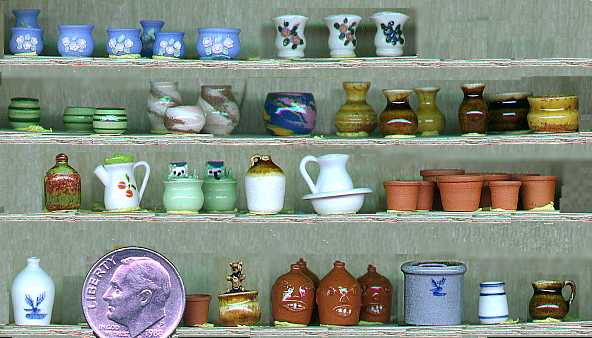 This picture is a composite of some of my 1/2 pieces. The house pot, in both scales, was made from green colored clays... and decorated with colored clays. Only the garden path and windows were painted . Flower covered vines climb the house, and flowers also line the gardon path.

The Teddy bear pot, also in both scales, was topped with a little teddy bear. A few pots have yellow puppies on the top, one has a clown. Christmas trees and snowmen also decorated a few pots, but I have none of those left.


One of my favorite types of pots was thrown from several colors of colored clays, that would blend and twist as the pot was thrown. Each one had it own unigue look and appeal. The inside colors varied...depending on which color was dominate at the center of the piece.


Vases were the most creative piece to make, because each one was unique, and had it's own personality. While jugs, and crocks, teapots and orange juicers all had to be standardized for wholesaling, vases remained, for the most part, a place for creativity to flourish. While wholsaling to "Jackie's Corner's" in Crete Illinois, I did do a line of standard shapes, but still the glazes were unique to each pot. My mind grasps for other items that I made. So many, but so long ago! Apple jars...pumpkin jars with jack o lantern faces...A few snowman, and Christmas tree jars..honey pots...coffee pots...the list goes on and on. I wish now that I had kept at least 'one' of each item. I have alot, but not all of them. As I find the ones I have, I will scan them and add them to the last page.




Free counters provided by Honesty.com.



All photos and material © 2000 by Roberta Melody